Giving a voice to as many people living with type 1 diabetes (T1D) as possible is essential to the development of technological advances that benefit the diabetes community as a whole. It's why Camp Conrad Chinnock has partnered with Thrivable, a real-time market research platform that's used to conduct surveys and interviews with patients across the country.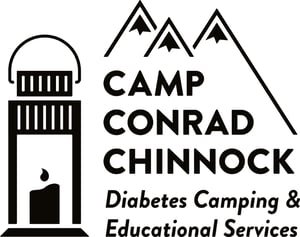 Our partnership provides all current camp members and alumni with an opportunity to influence the direction of type 1 diabetes care, and it's the first of many steps that will be instrumental in furthering diversity in diabetes research — an ongoing effort that begins with the launch of this dedicated panelist community.
Plus, by signing up to share your stories and perspectives, you can:
Contribute

— Be part of published research that moves diabetes care forward.

Earn

— Get paid up to $75/hour for your time.

Thrive

— Learn about clinical studies.
You probably have questions. Let's get them answered!
How much time will this take?
This initial survey, which is required to join the Thrivable panelist community and to be eligible to participate in research studies, will take you approximately 5 to 10 minutes to complete. However, most surveys that you receive from Thrivable after you join will be shorter.
As a special thank you for completing the initial survey, you'll also be entered into a sweepstakes drawing where you can win one of three $250 Amazon Gift Cards! See the official sweepstakes rules.
Who can join?
Any current or former Camp Conrad Chinnock member is welcome to join. Camp members who are under the age of 18 will need a parent or legal guardian to register on their behalf.
How do I join?
Simply click the "Next" button below and complete all survey questions. You must get to the last page of the survey and enter your email address to join Thrivable's panel.
Your privacy matters.
By signing up, you give us permission to share your Thrivable profile with Camp Conrad Chinnock. Your personally identifiable information will not be shared with any other third parties without your explicit permission.
Your survey responses may be used for research purposes. However, all personally identifiable information will be removed before the research study is analyzed or published. By continuing, you agree to the Privacy Policy and Research Consent Policy.